Residential Roof Repairs
If your roof has been damaged by hail or other severe weather, or it's just seen a few years of wear and tear and needs some repairs, you want to have confidence that your roofing contractor is going to provide the highest quality repairs and excellent customer service, all at a fair price.
Make Sure You Know Your Roof Repair Contractor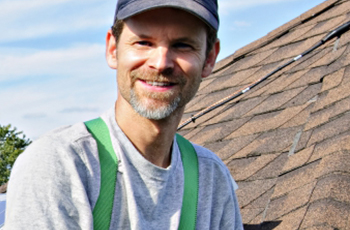 The only way to really be sure that you know who you'll be working with is to hire a locally-owned and operated company that has a long line of happy customers behind them. Golden West Exteriors is Edmonton's go-to roofer for just that reason. We're local, we stand by our work, our prices are fair, and you know that if you ever need us, we're still going to be here. We're not going to pack up shop and disappear on you.
---
Details, Details, Details
Everything we do, we do well for one reason: attention to detail. We'll get it right every step of the way, including:
Listening to your concerns

Inspecting your roof thoroughly

Providing a complete and easy-to-understand estimate

Delivering excellent craftsmanship

Cleaning up after ourselves

Maintaining a safe work environment

Following up and communicating regularly

Standing by our work
If you need your roof repaired, please give us a call. We're here to help.