James Hardie Siding
Benefits of Re siding your Home with James Hardie Siding
Your home is a huge investment; one that you want to stand the test of time and provide value when you are ready to sell it and move on to something new. One of the most important things that you can do to increase the value of your home is to update your curb appeal. Add value and elegance to your Edmonton home with James Hardie Siding.
Even if you are not looking to resell your home, the outside of your home is extremely important. It is the first line of defense against the weather and other acts of nature that threaten the safety and security of your home. For this reason, it is more important than ever to choose a siding that is durable, dependable and that looks great. A durable siding like Hardie Board in Edmonton.
James Hardie siding has been featured on many popular design shows and is very popular amongst the construction industry. It has been featured on HGTV as one of the "20 Ways to Add Value to Your Home", has been used on more than 50 homes on Extreme Makeover Home Edition and has been featured in Smart Fiscal Sense as a siding that offers great value, is a smart investment and is durable.
For the past eight years, replacing your siding with fiber cement siding has been the number one most valuable home improvement that you can make. Because of this value, many people have chosen to update the look of their home by selecting a new fiber cement siding. Over five and a half million of these renovations have been completed with James Hardie Siding.
There are many benefits of using James Hardie Siding in your home renovation. For starters, it is noncombustible. While vinyl siding will melt when it is exposed to extreme heat or flame, cement siding will not and is approved for fire-rated construction. This offers safety in the chance of a home fire.
It also offers long-lasting color over vinyl siding and leading competitors. With vinyl siding, the color cannot be changed and it is more likely to fade. By choosing James Hardie siding, you are selecting a product that has been treated so that it is 30% less likely to fade. This ensures that you will be able to enjoy your color choice for a long time.
If you currently have vinyl siding, you probably already know how fragile it is. It doesn't take much to be thrown into your home while mowing or during a storm to cause chipping or other damage to it. It is also very difficult to replace small sections because it is difficult to match the color once it has faded. Cement siding offers protection from rot and damage and this particular brand can withstand damaging winds up to 150 miles per hour.
Why Choose a James Hardie Elite Preferred Remodeler?
James Hardie partners with some of the best contractors from around the country so that you can be assured your James Hardie siding will be installed correctly. James Hardie Elite Preferred Remodelers must meet a specific set of requirements to gain membership in the program. These include:
Compliance with all James Hardie Installation "Best Practices"
Field Installation Audits by a James Hardie Installation Specialist
licensing, liability insurance, and WCB Insurance
Satisfactory background checks, credit checks, and Better Business Bureau ratings
Professional sales staff
You can hire Golden West Exteriors with confidence
We have worked very hard to develop and maintain our good reputation by consistently providing quality workmanship at affordable prices.
Golden West Exteriors supplies and installs the James Hardie Products brand of fibre cement siding and exterior finishes. If you can dream it we can build it. Make an old home look brand new with a completely custom look using fibre cement siding. Golden West is a fully integrated building envelope specialist which means peace of mind that your cement siding installation will be done right. Builders, multi-family developers, and homeowners look to Golden West to install James Hardie siding and rain screen systems.
HardiePlank® Fiber Cement Lap Siding
Hardie Plank lap siding is the most popular brand of siding in America and can be found on over 5.5 million homes. With its strength, beauty and durability, HardiePlank lap siding enhances and protects homes in all kinds of climates—and now, with the HardieZone® System, James Hardie provides fiber cement siding with specific performance attributes relative to the climate where the siding product is being used. James Hardie now gives you the optimum siding for your home and climate, regardless of location.
All HardiePlank lap siding comes in a variety of looks and textures, all of which are engineered for all climates. We are so sure about how well the HardieZone system will perform, HardiePlank lap siding comes with a 30-year nonprorated, transferable, limited warranty—our strongest warranty ever.
HardiePlank lap siding earned the Good Housekeeping Seal.
---
HardieShingle® Fiber Cement Shingled Siding
Hardie Shingle siding has the same warm, authentic look as cedar siding shingles, yet it resists rotting, cracking, and splitting. It's beautiful as a primary siding or as a complement to other styles of James Hardie® siding, and HardieShingle is also engineered for all climates to better withstand a home's particular weather challenges. Our shingle siding panels come in a variety of decorative edges, and expedite installation when used in larger areas. HardieShingle individual siding shingles come in a selection of widths for an authentic handcrafted look and are also ideal for smaller coverage areas. James Hardie fiber cement shingle siding products are available with our strongest warranty ever. HardieShingle siding is protected by a 30-year nonprorated, transferable, limited warranty.
---
HardiePanel® Fiber Cement Vertical Siding
Hardie Panel vertical siding provides value and long-lasting performance. As with all of our exterior products. When combined with HardieTrim® boards, HardiePanel vertical siding gives you a traditional board-and-batten siding look. HardiePanel vertical siding comes with our strongest warranty ever. It is protected by a 30-year nonprorated, transferable, limited warranty.
Golden West Exteriors is fully versed in the New requirements for HardiePanel® Vertical Siding used in Multifamily and Commercial Applications – Effective September 1, 2013
---
HardieTrim® Fiber Cement Siding Trim Boards
Our fiber cement siding trim adds the finishing touches to beautiful, lasting James Hardie homes. Hardie Trim® boards provide unmatched durability and allow you to create a variety of design possibilities for trim, gables, corners, fascia, windows, doors, column wraps, rakes, friezes, decorative trim and other non-structural architectural elements. HardieTrim boards come with a 15-year transferable, limited warranty.
---
HardieSoffit® Fiber Cement Soffit Panels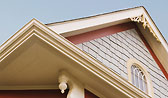 James Hardie Soffit panels are available in a vented and non-vented in a range of pre-cut sizes. As with all James Hardie siding products, HardieSoffit panels are noncombustible and come with a 30-year non prorated, transferable, limited warranty.
---